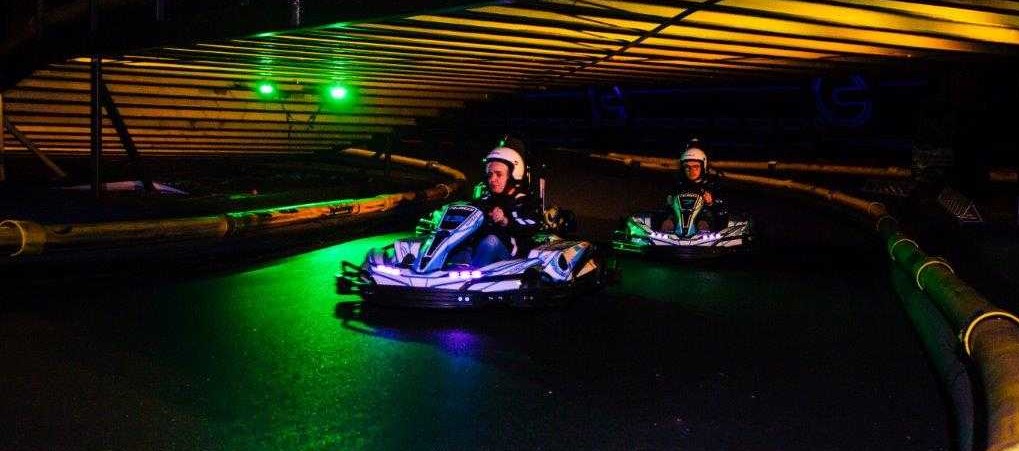 Discount at E-karting and much more!
ZERO55  
This unique indoor entertainment centre is located at the Go Planet Parc, next to the FC Twente stadium. The location has a futuristic theme where you can do fun activities such as karting, (Mini) Escape Rooms and VR Racing. You can also play pool, play a game of air hockey or play other arcade games in between activities.
E-karting
Karting has always been a popular activity to do with your committee, house or other student group. With e-karting you immediately have much more power available and therefore you can reach much higher speeds!
· Speeds up to 60 km/h!
· 425-meter track with bridges and tunnels
· No noise and no smell of exhaust gas
· One heat takes 10 minutes (excluding warm up round)
Vr Racing
Racing in the VR Racing Room is a glimpse into the future! Sit in your racing seat, put on your VR glasses, start the engine and feel how impressive it is to race at a speed of 300 kilometres per hour. VR Racing is super realistic because of the bucket seat, racing wheel, pedals and accompanying virtual reality glasses. In the VR Racing Room you compete against each other on the circuit while sitting in the same room, something unique to the Netherlands!
· Multiplayer: 2 to 8 people
· Every formula 1 track worldwide
· One game takes 15 minutes (excluding briefing)
The UnionDeal(s)
At ZERO55 Enschede we have arranged the following deals for you from Monday to Thursday:
E-Karten 
1 heat from € 15,- for € 12,-
Extra heat, € 12,- each
Direct booking
VR Racing
1 game from € 7,50 for € 6,-
Direct booking
Studentarrangement
Karten + VR Racing + a portion nacho's
The complete package for your team, club or group of friends!
From € 24,50 for € 19,50
Direct booking
The 20% discount also applies to other activities at ZERO55 Enschede.
What should I do?
Mention that you want to use the UnionDeal with your reservation and show your UT student card at the location! Spontaneous visits are also possible, but keep in mind that you cannot always play immediately. You can make a reservation by phone or directly via the website (then choose to pay at the location).
Contactinformation en opening hours
ZERO55 Enschede
Colosseum 84
7521 PT, Enschede
T: 053 303 3030
E: info@zero55enschede.nl