As the government is relaxing the restrictions we can socialize and do more activities again. The University of Twente is currently working really hard to re-open our campus partly, in a save manner. This will however, still take some time. Students are finding innovative ways to keep on practicing, without the UT facilities. In this article we highlight the story of some enthousiastic UT musicians.
Practicing in the parking lot
Three UT students, Eleanne Haalstra, Maike de Jongh, and Daniel Nijhof, have found a way to keep on practicing their favorite songs. Eleanne Haalstra tells: "We meet up with different UT musicians by finding a moment and place to practice our numbers. We are now for example practicing in the parking lot." The musicians are all members of different bands, and want to keep on enjoying their favorite music. "As the Vrijhof is still closed, we practice outside for the moment. The UT has got enough spots where we can meet up, it is lovely weather right now." Not much is needed, apart from enthousiastic students who share a common interest.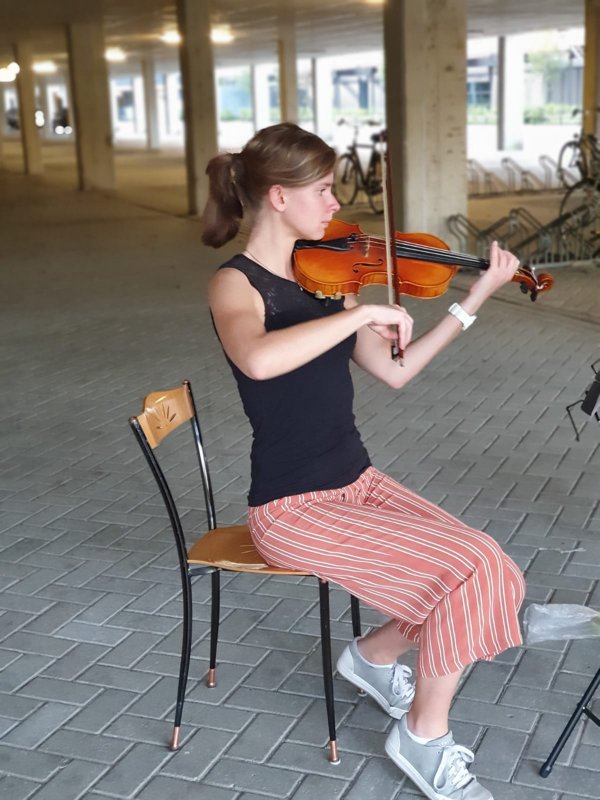 The three musicians are currently within a Whatsapp group with about 10 other UT musicians located within Enschede. "If someone feels the urge to play together we meet up." This shows that new friendships can be formed and socializing is possible, within a responsible way, even during the pandemic.
Being Creative makes things possible
Creativity is the key to get through this pandemic together. By thinking outside of the box and working together new ways to practice your hobbies can be found. Step by step, our University will open again. Did you get inspired by this story? Tell us your creative way of getting through this pandemic in the Facebook/ Instagram comments!
#Socialise_responsibilly