Blog Jeroen: Entrepreneurship at the UT explained
Entrepreneurship at the UT explained
It can be a hassle when you, as a (student) entrepreneur, need to find your way in the entrepreneurial environment of the UT. At least that's what I thought after spending several years at the UT. In comparison to other universities, the UT offers a broad package of help to its (entrepreneurial) students. Only, where can you find it? After half a year as portfolio holder External Affairs & Entrepreneurship at the Student Union I learnt that there are many options for you as a (potential) student entrepreneur. I hope that the following overview of entrepreneurial initiatives can help you in your entrepreneurial journey. To put an end to this blog I will tell you something about my own experience at the Student Union.
Starting with NESST, NESST stands for New Entrepreneurial Student Society Twente, (https://stichtingnesst.nl). NESST is a foundation that helps you when you are in the first stage of your entrepreneurial career. Do you have an amazing idea but you are not completely sure what to do with it? NESST can help you. Also when your idea is not that thought through yet. The people of NESST can help you in creating a valuable business model around your idea. Moreover, NESST also offers a free program that teaches you how to create a strategy for your business, how to make a business plan and how to pitch your idea in front of investors. Through these series of workshops, trainings and presentations you will get help on your own business idea, and in the end you will be ready to pitch your idea in front of professional investors. So as you can see, NESST is the place to go when you are in the initial phase of starting a company.
At the University of Twente we also have Hardstart (http://hardstart.nl). Hardstart is the entrepreneurial community at the UT, they do not only bring together like-minded people that have a shared passion for entrepreneurship, but they also organise great events and offer free office spaces to starting (student) entrepreneurs. So if you like entrepreneurship in general or you want free office space for your start-up, you should definitely check this out.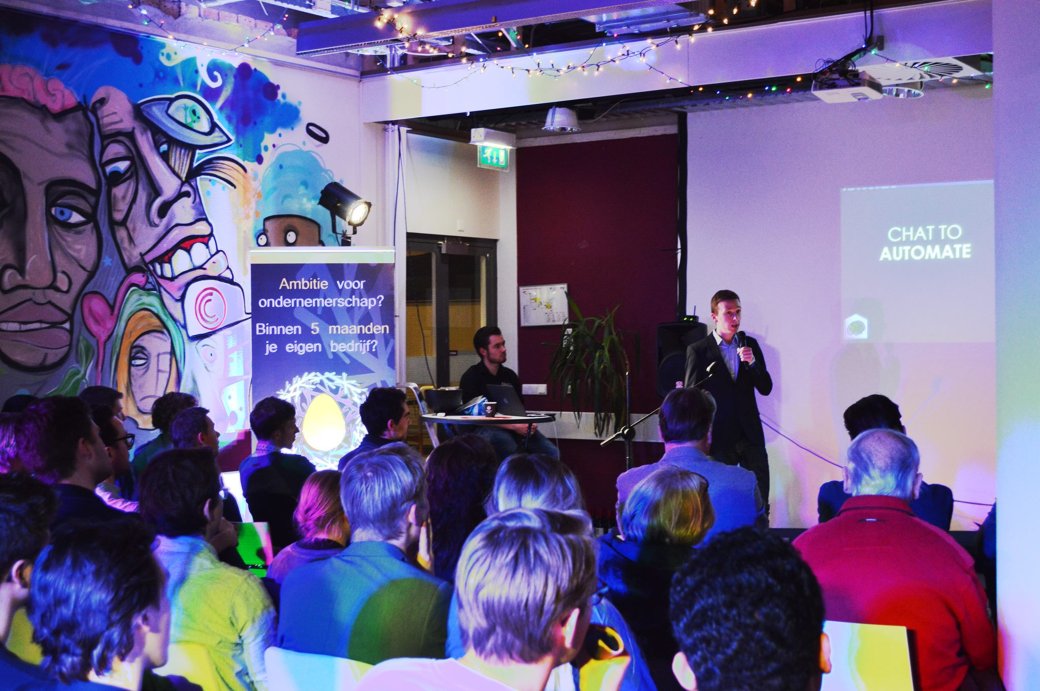 The Dragons' Den, organized by Nesst 
What in terms of funding? As a student it can be hard to invest a lot of money in your own start-up, and you are probably not the only one struggling with this. We have a solution for this at the UT: the Dutch Student Investment Fund (https://www.dsif.nl). DSIF is the first venture capital fund run by students in the European Union and was founded at the UT. DSIF invests up to €50.000 in start-ups created by bachelor, master, or PhD students from either the UT or Saxion, or alumni that have just graduated. They are always looking for ambitious start-ups that aim for growth. So do you have plans to grow your own start-up/company and money is a big problem? Please make sure you contact the Dutch Student Investment Fund.
Last but definitely not least in this list is Novel-T (https://novelt.com/en/). Novel-T is a professional non-profit organisation located at the UT where students can walk in with any kind of question regarding entrepreneurship as well as for free professional help, for example financial advice, legal advice or business development, but also for many other services. Novel-T is the hotspot for Entrepreneurship in the Twente region, and they also offer professional business development programs tailored towards the needs of your company. And the best thing? It's all for free! So as you can hear, this is really a place to go to when you have a (bigger) start-up, but also if you are a student and want to start a business. Novel-T can help you in taking your company to the next level. But why is Novel-T doing all this for free? The reason for that is that Novel-T has been brought to life to help the entire business sector in Twente with her development. Novel-T is an ecosystem that aims to realise opportunities for sustainable innovative industry. As stated on the Novel-T website: "The new knowledge developed by the University of Twente and Saxion will lead to well-earned spin-offs which will impact society. In turn, companies produce challenges, which will keep researchers and students busy. Students turn their ideas into new start-ups, which may conquer the world. This way, we all help each other to achieve the best results." This summarises quite clearly what Novel-T stands for.  One of the founders of Novel-T is the university of Twente and this is the reason why the UT has made Novel-T responsible for one of the core tasks of a university: valorisation. Valorisation is the process of converting knowledge into commercial feasible products, processes or services. I hope that this all clarifies the role of Novel-T at the University of Twente a little. So if you ever wondered where to go to for (free) professional help, Novel-T is the place to go! Not only for the great coffee.
And the best part of this? As portfolio holder External Affairs and Entrepreneurship of the SU I have the privilege to work together with all these parties in different ways. For example, at the moment I'm working closely together with Novel-T to create a physical start-up incubator at the second floor of the Bastille building. It's a very interesting project that takes a lot of work, but at the same time it gives you countless opportunities. For example, last week Arthur de Lange (SU), Anne-Wil Lucas (quartermaster Kennispark), Cindy Marsman (Novel-T) and I went to Rotterdam to visit the Cambridge Innovation Centre (https://cic.com/rotterdam/), a start-up concepts for co-working and office space rental next to the Central Station, and The Venture Café (https://venturecaferotterdam.org), an open community of innovators. We had an appointment with Melissa Ablett the general manager of CIC Rotterdam to talk about the way CIC positioned themselves in the ecosystem of Rotterdam, the policy that they work with as well as the facilities an incubator should have. A great source of inspiration for our own project at the second floor of the Bastille. Subsequently we had another appointment with Anoesjka Imambaks, she is the executive director of the Venture Café Rotterdam, we talked about how to create an innovation community and how to accelerate innovation within a regional ecosystem, which was very useful information for us since we want to create and facilitate an entrepreneurial community in the Bastille as well. In summary, we gathered a lot of valuable information in Rotterdam that we took back to Enschede. Now it's the time to make sure to incorporate all these ideas into the start-up incubator of the Bastille.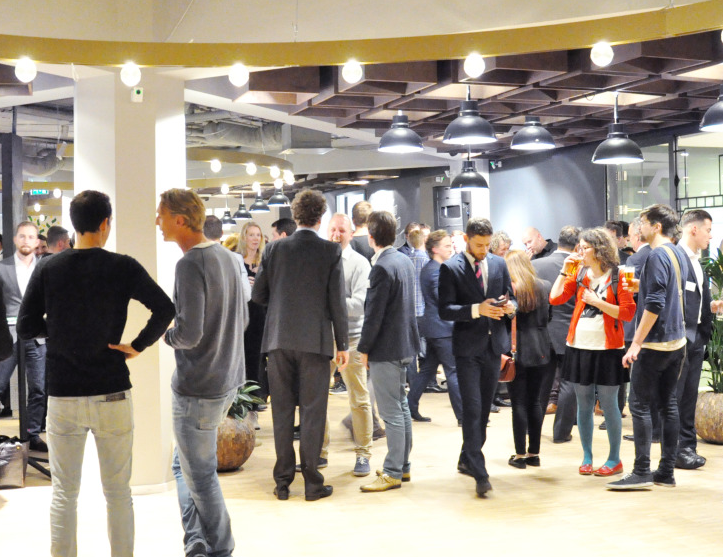 The venture café
This was a very unusual day for us and this is what makes working at the Student Union so exiting, literally every day is different and that is what makes it sometimes hard to explain what you are doing all the time, but at the same time it makes it so very special. Of course it's not always fun, sometimes you are the messenger of bad news, like later that week. We had to inform tenants of the Bastille about the final expiration date of their rental agreement due to the renovation works of the second floor of the Bastille. Luckily all tenants were aware of the renovation works beforehand, but still, bringing this kind of news is not great, but that's also part of being a board member at the SU.
Nonetheless, for 99% it's very exciting to work for the Student Union and I'm very much looking forward to the arrival of the new start-up incubator in the Bastille! I hope you do so as well!
If you have any questions or if you are getting curious about the start-up incubator, walk by at the Student Union office or send me an email.  
Top picture: The Cambridge Innovation Centre