Bestuursblog Roos de Vries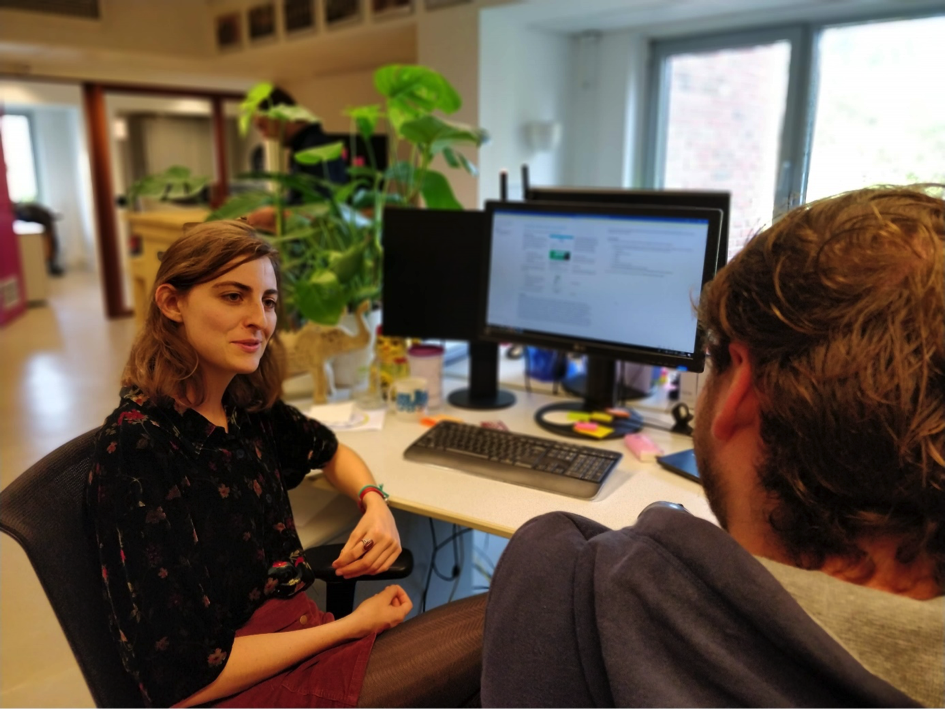 Picture: Roos de Vries and Dennis Hans brainstorming about a new design for the newsletter.
STOP SPAMMING AND START PROMOTING!
Imagine you are a board member of an association. You have a large event coming up next month, and it's time to begin promotion. What do you do?
Do you hang posters all over campus?
Do you submit a slide for the LED screens?
Do you send out a whatsapp spam to everyone you know?
Do you set up a table and hand out flyers in the Horst?
Do you put it in a mail merge?
Do you post on Facebook and Instagram?
Do you make an event on your website?
Do you bring it up during meetings and slide it into casual conversations?
Do you go so far as to submit an article to UToday, or involve Studium Generale?
Do you ask other associations to promote the event for you?
Many associations will use all of these channels for promotion. They don't make a choice about how to promote most effectively-- just spam as many people as possible. And it makes sense, right? The more you promote, the more people you reach!
Well, I'm not so sure. Because of the sheer amount of spam that is produced by all of our associations, no one gets properly heard. I also think it's ridiculous that students currently go through ten different channels to reach other students. Everyone, including the SU, is struggling with the same question: How do we get heard, in the face of an information overload?
Recently, the SU has been doing some research to improve her marketing strategy. Handstand has helped us determine the ideal 'imago' of the SU, and we also visited SU's in England, where we saw a much better example of how marketing can be done. I'm posting this article for all the design committees and public relations officers of the UT. I think the things we've learned might be useful for you.
TIP 1: TRIGGER EMOTION- BE BOLD!
One thing I learned is that it's important to catch people's attention with a simple and intriguing message or image. People are attracted to sensation and emotion. Next time you have an event for your finance committee, make a poster that says Get Rich Quick and I promise you'll get more people who are interested. Also, we automatically relate to simple images of people showing emotion (laughing during a drink, for example), or clearly performing an action (writing an exam). I debated calling this article 'We are cockblocking ourselves' because that would've caught a lot of people's interest. I didn't have the balls, though.  
TIP 2: FIND TOUCHPOINTS- MAKE YOURSELF RELEVANT
Always look at your communications from the perspective of a viewer. If most people don't like the sweaters you sell, don't continue to promote your sweaters. It's wasted energy compared to promoting another piece of merchandise which does sell. You want people to associate you with your most successful services, not your least successful ones.
TIP 3: OFFER CONTENT, BUT KEEP IT SIMPLE
A general life tip: you can usually get people to do what you if you explain why. The same goes for marketing. Saying 'come to our event' can be off-putting, while saying 'This event has delicious food from all over the world.' will be very positively received. One is a right-hook, and the other is content-marketing. Do the second thing. At the SU, we've been writing blogs because it's fun, but also because we want to explain to students what we do instead of using Facebook for spam only.
TIP 4: A FEW GOOD CHANNELS IS BETTER THAN 10 HALF-ASSED ONES.
And finally, this tip will benefit everyone. Two great posts is better than 10 lame ones. Next time you want to promote something, consider using only three of the options listed above. This will force you to think about who you are trying to reach (good job!) and means you'll probably make more effective use of the channels you choose. I think the whole UT will be thankful to you.
These are our marketing tips! As an SU, we're trying to implement them more. If you have other tips or tricks, or want to offer feedback, feel free to email me or comment on Facebook!